Leaders of Tomorrow
Compiled by Hailey Bohmaker (Sociology '21)
The College of Architecture and Environmental Design prepares students to be tomorrow's leaders — in the built environment and in life. We continue our series by asking 2020 and 2021 graduates how they plan to carry those lessons forward into their lives and careers.
---
Alex Trujillo
Soon after arriving at Cal Poly, Alex conceived and founded the Construction Management Entrepreneurs (CME) club and serves as its president.
"I quickly felt at home in the department and began to grasp the many opportunities to apply the skills I was learning. This grew into a desire to integrate entrepreneurship and construction management and to help share with my peers that you do not have to be a business major to create and launch a successful business.
I hope to lead by example and work to create an environment that promotes innovation and brings like-minded individuals together to think outside of the box. Cal Poly has prepared me to be an innovative leader and has allowed me to take a wide variety of courses to explore my interests. The campus environment and CM family have provided me the strong support system that allowed me to step up and succeed. I could not have created CME without the help of the Construction Management Department, my peers and all of the resources that the university has provided me with.
In the future I want to lead by continuing to be involved with CME and by being a mentor to freshman and sophomore students to help them reach their full potential."
With the help of his advisor and CM faculty member Phillip Barlow, Trujillo has been able to grow the CME club from one member to nearly 60 in just three years.
— Alex Trujillo will graduate in June with a bachelor's degree in construction management.
 
Here's how other CAED 2020 graduates and soon-to-be-alumni describe how they plan to lead in the future:
"I plan to lead by taking initiative in the structural engineering community to help make it an inclusive, welcoming environment. Further in the future, I hope to lead in the humanitarian design sector."
— Jenna Williams, M.S. Architectural Engineering
Earthquake Engineering Research Institute Student Chapter president, Society of Women Engineers officer
"Make an impact in the construction industry as a young professional and lead by empowering project teams in any way that I can."
— Andres Nasr-Church, Construction Management
Construction Management competition team captain: Integrated Project Delivery
"I hope to volunteer to teach a 'building your dream house' elective in school again and to meet all those young architects who are at the age of 9."
— Crystal Yongyin Chen, Architecture
Alpha Rho Chi president
"I plan to lead by dedicating my time toward sociopolitical reform. This can be through drafting bills, organizing support for a movement, using design as a medium for awareness, and designing with and for historically repressed communities. I may sometimes end up a leader, but I will always be a listener first."
— Tim Gobel, Landscape Architecture
Student Chapter of the American Society of Landscape Architects treasurer
"I plan on gaining experience through my career and eventually starting my own firm as a licensed structural engineer."
— David Colman, Architectural Engineering
Creator of award-winning CAED Support Shop centerpieces
"I will lead in the future by putting sustainability and functionality at the forefront of design."
— Zoe Kuli, Landscape Architecture
Sigma Lambda Alpha Honor Society – Theta Chapter treasurer
"I plan to lead by bringing lessons learned during my time at Cal Poly to the job site to create a better flowing and more integrated workspace."
— Patrick Shami, Construction Management
Sigma Lambda Chi president
"Somewhere in the future, I'd love to teach and mentor other design students. Architecture has the immense power and responsibility to enact long-lasting and positive change in our society and the built environment. I intend to not only continuously work to be part of this change but also encourage, empower, and help others lead our profession's effort to make our world a more just and equitable one."
— Violeta Smart, Architecture
Creator of award-winning CAED Support Shop centerpieces
"I plan to lead by thinking critically about important issues in my community and by building strong coalitions to address them."
— Henry McKay, City and Regional Planning
CAED Chat student correspondent
"I will lead by example. And I will treat people the way I want to be treated."
— Reagan Milligan, Construction Management
Cal Poly Women in Construction president, CAED Chat student correspondent
"I think that my time at Cal Poly has really shaped my leadership style in a profound way by our university's motto: Learn by Doing. I plan to lead in the future by this motto, learn what the future needs, and do good in the world to uplift those around me."
— Sophia Looney, Architectural Engineering
Former Cal Poly Structural Engineering Association of California Student Chapter President; Poly Rep Alumna; Outstanding Senior University Contribution Award - CAED
"I plan on leading in the future by one day running my own construction company."
— Collin Martin, Construction Management
Lawmaker Recognition, Construction Management competition team captain: Project Management
"In the future I plan on being a design principal. As a design principal I can lead projects to create diverse, equitable and beautiful landscapes."
— Jeremy Dvorak, Landscape Architecture
Sigma Lambda Alpha Honor Society – Theta Chapter president, Mentor Program, Distance Club
"I plan to lead by sharing my passion for learning with others just as my role models did for me."
— Molly Pryde, Construction Management
Cal Poly Women in Construction treasurer
"I will lead by achieving the unexpected. Hopefully I'll do it with some pizzazz too!"
— Sam Dreyfus, Architecture
Creator of award-winning CAED Support Shop centerpieces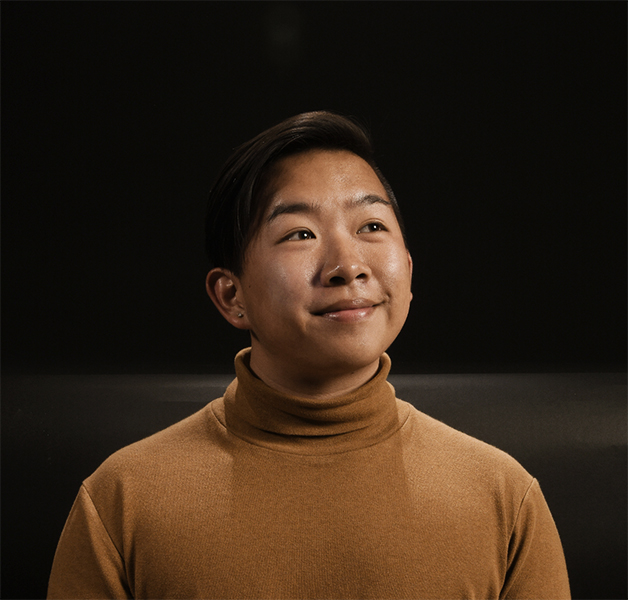 "I plan to lead by providing assistance to my peers and by keeping an open mind."
— Jordan Chiang, Landscape Architecture
Sigma Lambda Alpha Honor Society – Theta Chapter vice president
"After graduation, I plan on staying involved with the Women in Construction Club here at Cal Poly. I want to be a mentor who offers encouragement, advice and opportunities to women who want to pursue a career in a male-dominated industry."
— Sydnee Greer, Construction Management
Cal Poly Women in Construction representative
"I will lead by being unafraid to voice the concerns of the minority to push for an equitable education for all."
— Alexander Ameri, Architectural Engineering
Associated Students Incorporated Board of Directors CAED representative
"I hope to be a successful contractor leading inclusive and exciting project teams while remaining involved in my community."
— Ryan Nielsen, Construction Management
Associated Students of Construction Management Open House chair
Related Content