Recent News
Feb 7, 2017
---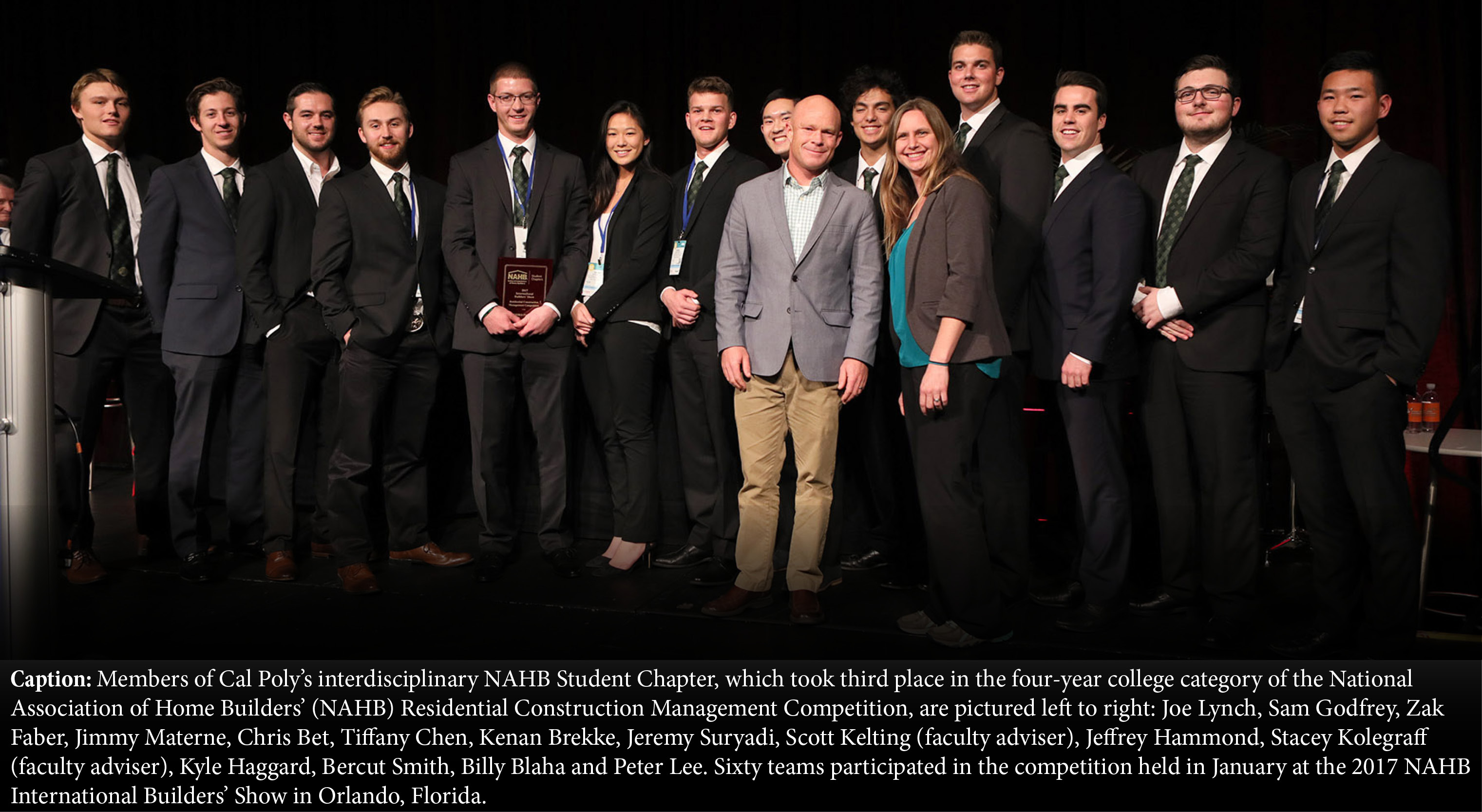 SAN LUIS OBISPO — The student chapter of the National Association of Home Builders (NAHB) at Cal Poly was awarded third place in the four-year college category of the NAHB Residential Construction Management Competition January 11.
Sixty teams representing universities, community colleges, high schools and career technical schools across the U.S. participated in the annual competition at the 2017 NAHB International Builders' Show in Orlando, Florida. It challenged students to solve a real-life construction management problem to develop a 32-acre parcel of land by determining costs, scheduling, marketing, the design of the homes, and a feasibility analysis for the project.  In front of an audience of peers, this solution was presented to an investment committee who judged the student proposals.
Jan 25, 2017
---
Two architecture students were among 60 students and alumni finalists from around the world selected for a new honor by the American Institute of Architecture Students (AIAS). Second-year student Liam Hanlon and third-year student Sharon Turek were chosen to participate in a three-day opportunity to engage with Walt Disney Imagineers from May 19-21 in Orlando, Florida. AIAS Imagine: Top 60-at-60 seeks to bring together the top AIAS students in all years of architecture school, including fifth year, graduate students and alumni members in celebration of the organization's 60th anniversary. Hanlon is president of the Cal Poly AIAS and Turek is vice president. AIAS and Walt Disney Imagineering will co-host a weekend of design process exploration. Honorees will be able to participate in a series of lectures, workshops and tours that highlights Walt Disney Imagineering's approach to design. "I hope to gain insight into the process Disney Imagineering takes for design and utilize the wonderment they create into my own future work," Turek said. Hanlon added that he would like to see "the process of how Disney translates their stories into experiences."
Pages
Related Content